We are having pretty bad weather here in Iowa so going out to get groceries or food for dinner isn't on my priority list. So I thought I would try something new with what I have at home. The Three Cheese Past Bake it is! I think it would have been better with grilled chicken or steamed broccoli.
PREP TIME: 10 minutes   |   COOK TIME: 30 minutes   |   SERVINGS: 6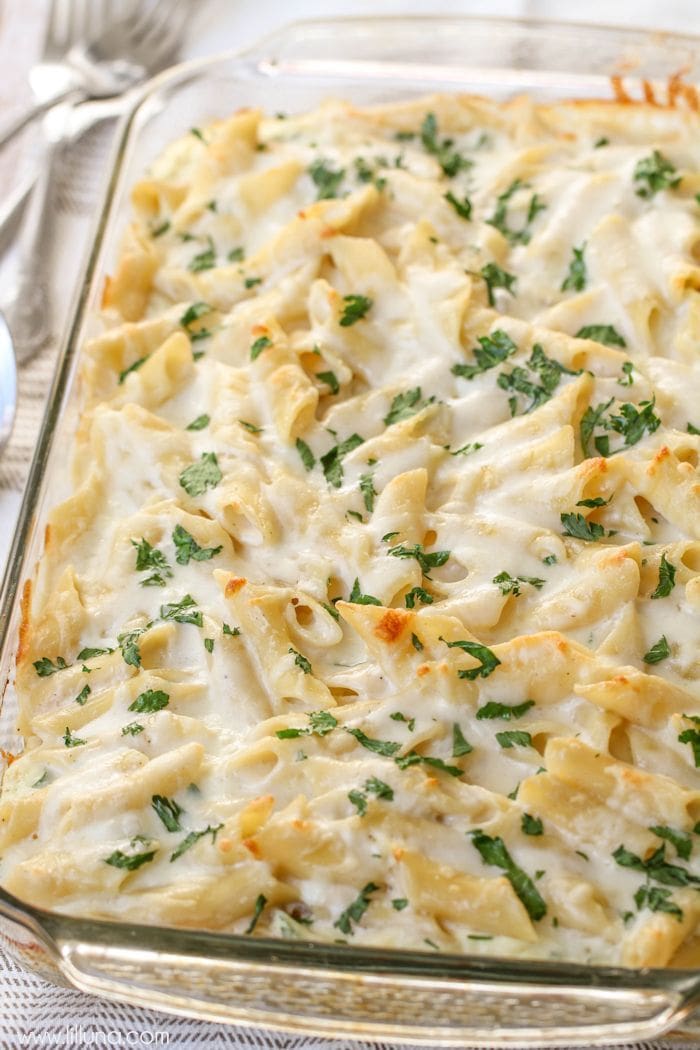 INGREDIENTS:
1 16 ounce package ziti pasta
2 10 ounce jar Alfredo sauce
1 8 ounce container sour cream
1 15 ounce container ricotta cheese
2 large eggs, beaten
1/4 cup grated Parmesan cheese
1/4 cup fresh parsley, chopped
1 cup Mozzarella cheese
INSTRUCTIONS:
Preheat oven to 350.
Prepare pasta according to package directions. Drain and pour back into pot.
In a large bowl, combine the Alfredo sauce and sour cream. Add the ziti noodles and toss until coated.
Spoon half of the pasta into a greased 9×13-inch dish.
In a separate bowl, stir together ricotta cheese, eggs, parmesan and most of the parsley. Spread evenly over pasta in the baking dish. Evenly spoon the remaining pasta on top.
Sprinkle with Mozzarella cheese and little fresh Parsley.
Bake for 25-30 minutes.
Do you have an past recipes? If so, comment below you favorite one 🙂